Client: Warner Bros. Home Entertainment and HBO Home Entertainment events
Date: Various
Date: 2006
NOTE: The information should be considered confidential. We obtained permission from our client to share this information with you for our proposal.
Client ask:
To (1) make Bratz, the (then) fashion doll category leader, more relevant for Quebec consumers; and (2) make the brand appealing to fashionable English Canadian mothers.
LexPR solution:
LexPR recommended partnering with Quebec fashion designer Marie Saint Pierre to (1) become the first designer in the world (outside of the MGA internal team) to design fashions for a line of Bratz dolls based on her current collection; and (2) get moms reading about the dolls in Canadian fashion magazines by putting the dolls and their designer fashions on the runways at Montreal and Toronto fashion weeks.
"We were the first in Canada to bring a consumer product onto the runway in such a 'disruptive' manner. Just because it hadn't been done before didn't mean it couldn't be done."
–  Laura Cochrane, Leader of the MGA Entertainment file at LexPR
The result:
LexPR recommended to the client that a strategic PR campaign needed to go beyond 'getting press clips' in French language publications. Our Francophone experts were telling us that the brand had little relevancy in the Quebec market, and that pitches which were getting traction in other markets were not being picked up by French media. Even French-only angles were not getting coverage — it kept coming back to 'lack of brand relevancy' for this very distinct Canadian market.
Building on the insight that creativity and pride are two of the strongest qualities for French Canadians, we set out to develop a campaign that would put this at the forefront of our PR activities. As a result, we pitched a very big, aggressive and complex idea — to engage a French-Canadian designer to create customized clothing for an exclusive line of Bratz dolls AND to put the pint-size and life-size fashions on the runways, along with the actual dolls. This would represent a global first for the brand AND the fashion doll industry. MGA Entertainment had never before engaged anyone outside of their global headquarters to work on the (then) cutting-edge fashion designs for their flagship toy property.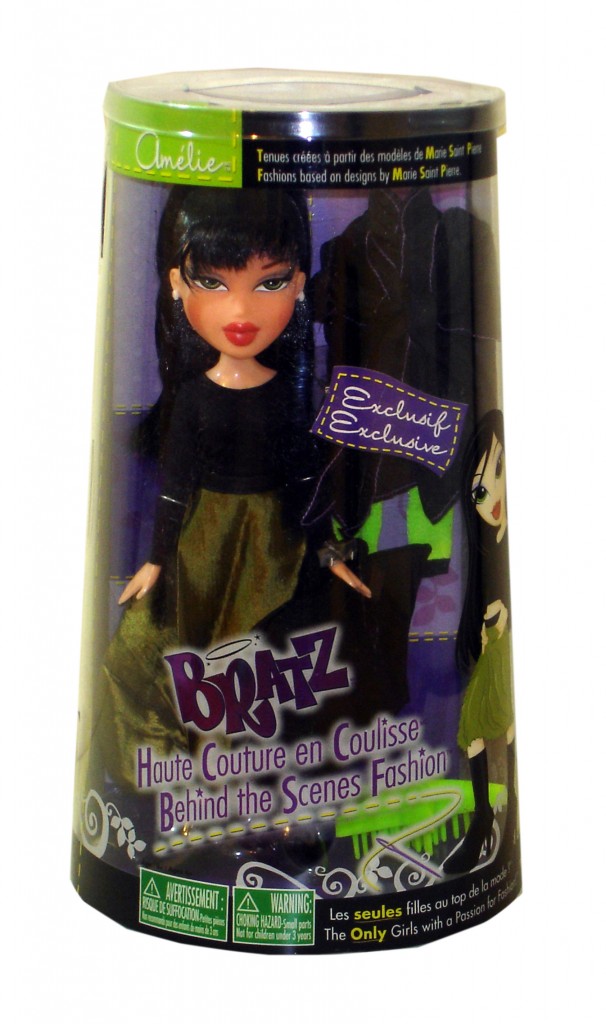 This approach gave French Canadians a sense of pride and ownership in this first-time initiative for the toy brand. We were also able to leverage Marie Saint Pierre's credibility and relevancy within this market. Once the designs were underway, we then moved on to really push the creative boundaries. We recommended that the client pay the designer's fees to participate in both Montreal and Toronto fashion weeks (an all-in cost that was a little more $5K at that time). The result was pure magic! Dressed in fashions to match the new dolls, the models turned at the end of the runway to expose the Bratz dolls artistically and cleverly positioned within their hairstyles. It created a sensational media frenzy and generated more than 100 press clips — mostly on the fashion pages (tick) and in Quebec publications (tick). The campaign garnered almost $500K in public relations value and reached more than 20 Million Canadians. LexPR was awarded a top award from the Canadian Public Relations Society (CPRS) for this campaign.
To this day, the Bratz brand classifies this PR-led initiative as: "the most successful exclusive line launch for Bratz in Canada." Click here to read more of this client's comments about our campaign, its results and general comments about working with LexPR.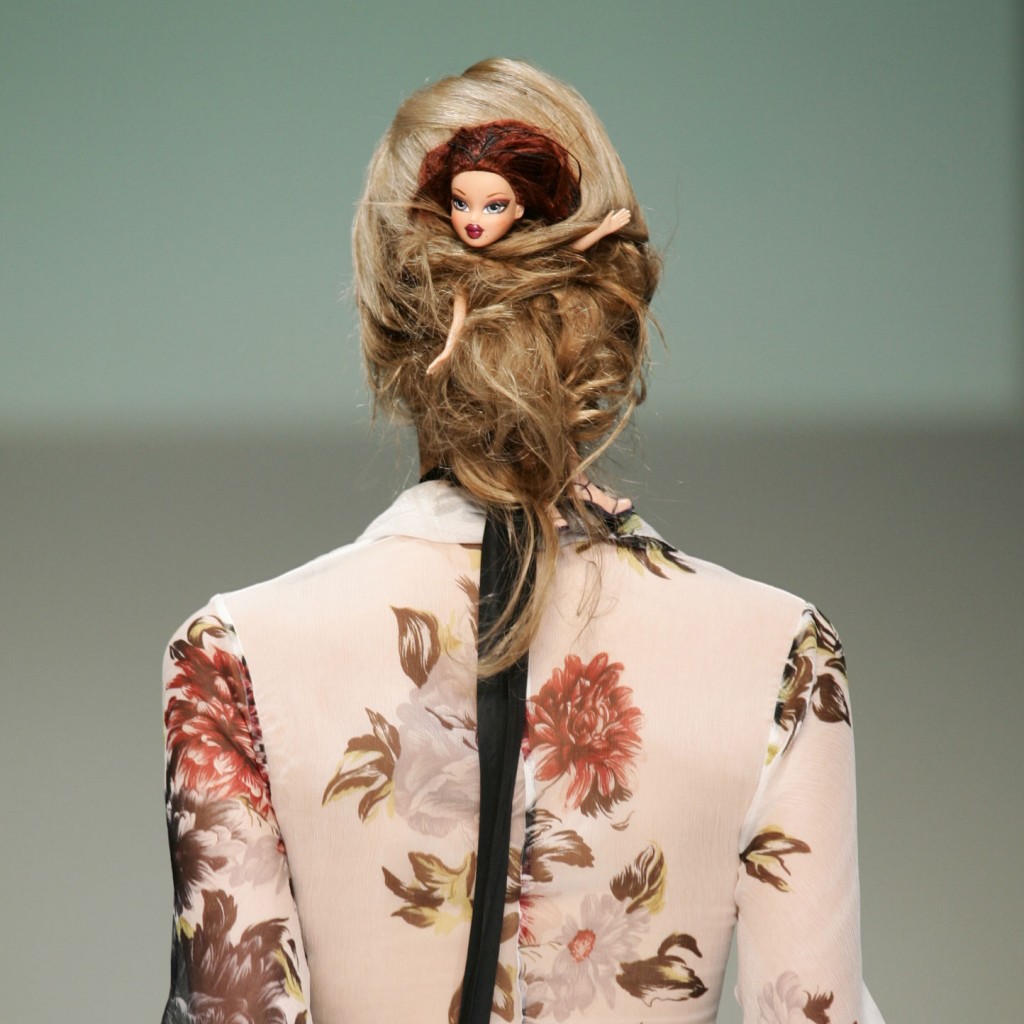 Of notable interest, three years later in 2009, Barbie (biggest competitor to Bratz) celebrated her 50th birthday with a runway show in New York for the Mercedes-Benz Fashion Week. The event showcased fashions on the runway contributed by well-known designers.
Date: 2014
NOTE: The information should be considered confidential. We obtained permission from our client to share this information with you for our proposal.
Client ask:
Secure exposure for Baanto that will (1) generate awareness within targeted industry sectors; and (2) show their proprietary technology "in action;" and (3) has the potential to generate sales leads.
LexPR solution:
A three-pronged approach to seed the technology in high-profile activities including: (1) national entertainment television show during Toronto International Film Festival (TIFF) that can showcase the technology in action and generate social media opportunities via celebrity interaction; (2) leading Canadian hospital where technology can be incorporated in a meaningful way, and have the opportunity to drive the "Canadian technology and X Brand advance healthcare in hospitals" story; and (3) large-scale consumer engagement activities planned for premium brands by their marketing and advertising agencies.
"News reports about cool technology are expected. Having the cool technology showcased as part of the news reporting process is far more powerful."
–  Alistair Kyte, Leader of the Baanto file at LexPR
The result:
As part of our B2B PR program for technology client Baanto (a leading Canadian manufacturer of touchscreen and position-sensing technologies and products), LexPR pitched and secured an opportunity for Baanto to custom design and build a large multi-touch digital wall for ETALK to use during its Toronto International Film Festival (TIFF) broadcasts, at a time when the show gets some of its highest ratings of the year (the first TIFF show on September 4 attracted 775,000 viewers, which was hundreds of thousands more than its main competitor, ET Canada). A second "Selfie Screen" was also created by Baanto to take photos of celebrities, which they could then sign with their finger on the touchscreen to share via social media. Once built and implemented, the screens provided the show's hosts with cutting-edge tools to create new, interactive and dynamic content during the festival. This execution was highly innovative, allowing our client to showcase how its technology is leading the field for touchscreens in Canada and, more specifically, why it's an ideal application for a broadcast television environment.
Debuting September 4 and appearing on each broadcast through to September 19, ETALK unveiled its "ETALK Star Screen powered by Baanto" with a massive 110-inch interactive video wall — changing the way Canada's highest-rated entertainment news show presents its nightly film festival coverage. By putting the control room in front of the camera, anchors Ben Mulroney, Tanya Kim and the rest of the ETALK team were able to manipulate the show's action with a touch of a finger.
As part of the LexPR-led negotiation and execution, ETALK included one promotional bumper ("let's check out the ETALK Star Screen powered by Baanto") which aired on each of the 12 shows. The Baanto logo was included at the end of each show as part of the 'special thanks' credits. ETALK hosts also referenced a key client message ("Canadian-made technology") twice as part of this agreement. ETALK, its hosts, and LexPR shared news and photos of the screen in use via social media, alerting viewers to the on-air debut of this new technology.
Celebrities visiting the ETALK studio during TIFF, such as comedian Russell Peters and Nicky Hilton, had their photos taken with the ETALK Selfie Screen and signed their images on the touchscreen, which were then tweeted out by ETALK (41,000+ followers) and retweeted by the celebrities (Nicky Hilton has 800,000+ followers). The Selfie Screen will also remain in the ETALK studio for use whenever a celebrity comes in to visit over the next two months.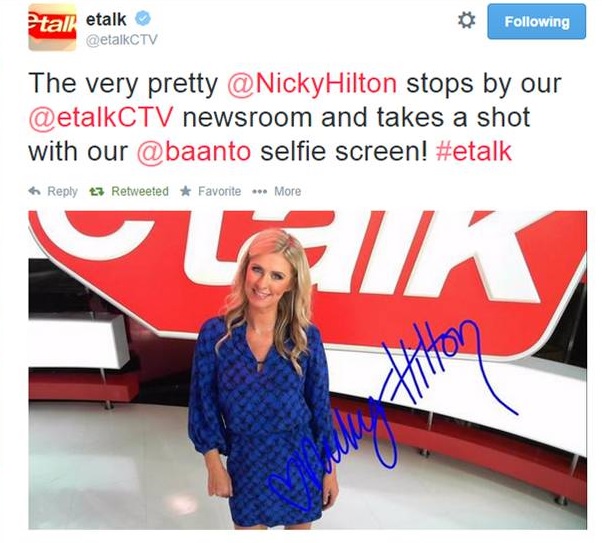 Baanto received (at no cost to our client) a marketing value of $230,000 for this singular execution.
*It is also important to note that ETALK has requested two additional months' use of the screen while it is considering its options to purchase the technology for permanent use. This will increase the marketing value of this singular execution by an additional $1Million. ETALK was so impressed with the program, which allowed the show to achieve its highest TIFF ratings ever (84% more than their competition), that they sent out a press release mentioning the contribution of Canadian-made technology with the Baanto screen and included a photo.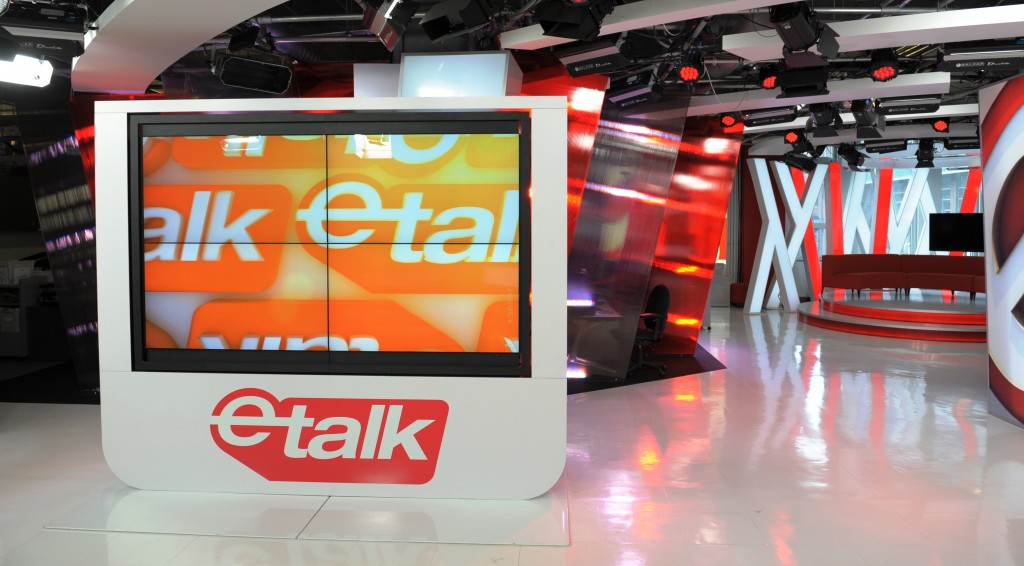 Client: Miscellaneous
Date: Various
Client ask:
Plan and execute FAM trips that delver results
HBO's Boardwalk Empire (New York City)
In summer 2013, LexPR led a Canadian press trip to the set of HBO's award-winning period show, Boardwalk Empire, to meet with showrunner Tim Van Patten and talk about Season 3, which was soon to release on Blu-ray, DVD and Digital Download. Media members spent three hours touring the massive soundstage and they were able to speak with Mr. Van Patten and executive producer Howard Korder for more than 90 minutes while sitting on the actual set.
Journalists from across Canada attended the two-day trip, which also included a luncheon presentation at HBO HQ by the president of Home Entertainment, Sofia Chang, as well as dinner at a Lower East Side restaurant with ties to Lucky Luciano himself (which is also featured in an actual episode of Boardwalk Empire).
More than 10 total print, online and broadcast stories (including a massive full-page spread in the National Post) were generated from the press trip alone and timed to the release of Season 3, helping build even more critical acclaim and media buzz on street date for this title.
Boardwalk Empire Press Clip – National Post
Havana Cuba Rum (Havana, Cuba)
In early summer 2011, LexPR in association with Tourism Cuba, led a press tour to Havana to provide an opportunity for Canadian lifestyle journalists to explore the real Havana and learn about Cuban culture and, of course, its prized spirit — rum. The press trip was an early execution in the overall Havana Cultura campaign, which saw summer street festivals takeover hip neighborhoods in Montreal and Toronto featuring Cuban music, art, dance, food and cocktails.
Journalists from Montreal and Toronto attended the press trip to get a true taste of the real Havana. While in Havana, media toured the Havana Club factory, enjoyed live Cuban jazz, visited the famed Tropicana club, frequented museums and art galleries, and enjoyed every manner of rum-based drinks — including legendary Daiquiris at Earnest Hemingway's favourite watering hole in Havana, El Floridita bar.
The journalists went back to their respective publications to write preview pieces on Havana Cultura before the festivals began in each city. The FAM trip coverage helped kick-off a highly successful campaign that generated 102 press clips and 16,191,676 total impressions.
LexPR worked closely with Tourism Cuba to plan the itinerary and ensure that media were able to experience the best of Havana.
Havana Club Press Clip – Montreal Mirror
Jameson Rum (Dublin, Ireland)
In February 2012, LexPR arranged for ETALK to film three segments with rock band Sum 41 in Dublin, Ireland, for the lead-up to St. Patrick's Day — featuring our client Jameson Irish Whiskey. The segments aired nationally in Canada.
Each segment showed "special hosts" Sum 41 enjoying Jameson in Dublin, visiting the distillery and learning the secrets behind the world's most popular Irish Whiskey; going on a proper Dublin pub-crawl (and enjoying Jameson along the way); and exploring the deep musical roots of the city.
All of the brand's key messages were front and centre in the segments, showcasing that Jameson is a premium product enjoyed by the young, hip and adventurous. As far as branded-entertainment goes, this execution hit every note — while highly entertaining, the segment doubled as an educational video for Jameson.
This three-part segment aired nationally in Canada on ETALK for three days leading up to St. Patrick's Day. ETALK is the highest-rated nightly entertainment news broadcast with upwards of 650,000 viewers each night. Numerous branded promotional spots were also aired on CTV in the weeks and days leading up to the first segment, and on the days that the segments were airing. The first clip, which was entirely shot in the Jameson Distillery, was also posted by the Jameson team in Ireland on its Facebook page, which is "liked" by 237,000 Facebook users worldwide.
[cvg-video videoId='12' width='480′ height='320′ mode='playlist' /]
Date: 2007-current
Client ask:
Keep all of our vendors happy
Shoppers Drug Mart (SDM) is Canada's leading retailer of beauty, health and pharmacy products and services with 1,240 Shoppers Drug Mart and Pharmaprix stores across the country.
LexPR was originally hired to work on a project for the company's Life Brand (private label health and beauty brand), and has since grown the business to include SDM's numerous private label and exclusive international brands including: Quo Cosmetics, Quo by ORLY, GOSH Cosmetics, Boots No7, Sally Hershberger Hair Care, Life Brand, Etival Laboratoire, Yes To (multiple sub brands), Raw Essentials by Carol Alt, éclos, Chinese Herbs by Peter Lamas, Toppik, Soap & Glory, Nativa Organics, Simply Food, and Optimum (Shoppers Drug Mart's retail loyalty program).
LexPR was SDM's first agency of record for marketing communications/public relations. Each year, LexPR has demonstrated that there is enormous value in proactive media outreach programs, whether it's for a brand/product launch or a seasonal, multi-brand marketing campaign. We've worked closely with the company to custom build everything — from our PR plans and presentations through to our results reports — in order to suit the client's needs and the needs of their brand managers and vendor partners.
We are briefed on multiple assignments over the course of each year, and we execute a custom PR plan for each and every one of them. We invoice this client per brand/assignment, and we provide a results report for each brand/assignment.
The client appreciates the fact that we can strategically recommend and manage relevant third-party experts and also develop cross-promotional opportunities with other LexPR clients. During the 2011 and 2012 holiday seasons, LexPR executed a national media tours with TV personality Shoana Jensen that combined entertaining ideas from both SDM and Corby Distilleries Ltd. LexPR split the budget between both clients resulting in a highly successful program at a cost-saving to both companies.
Click here to see a current example of our work for this client.